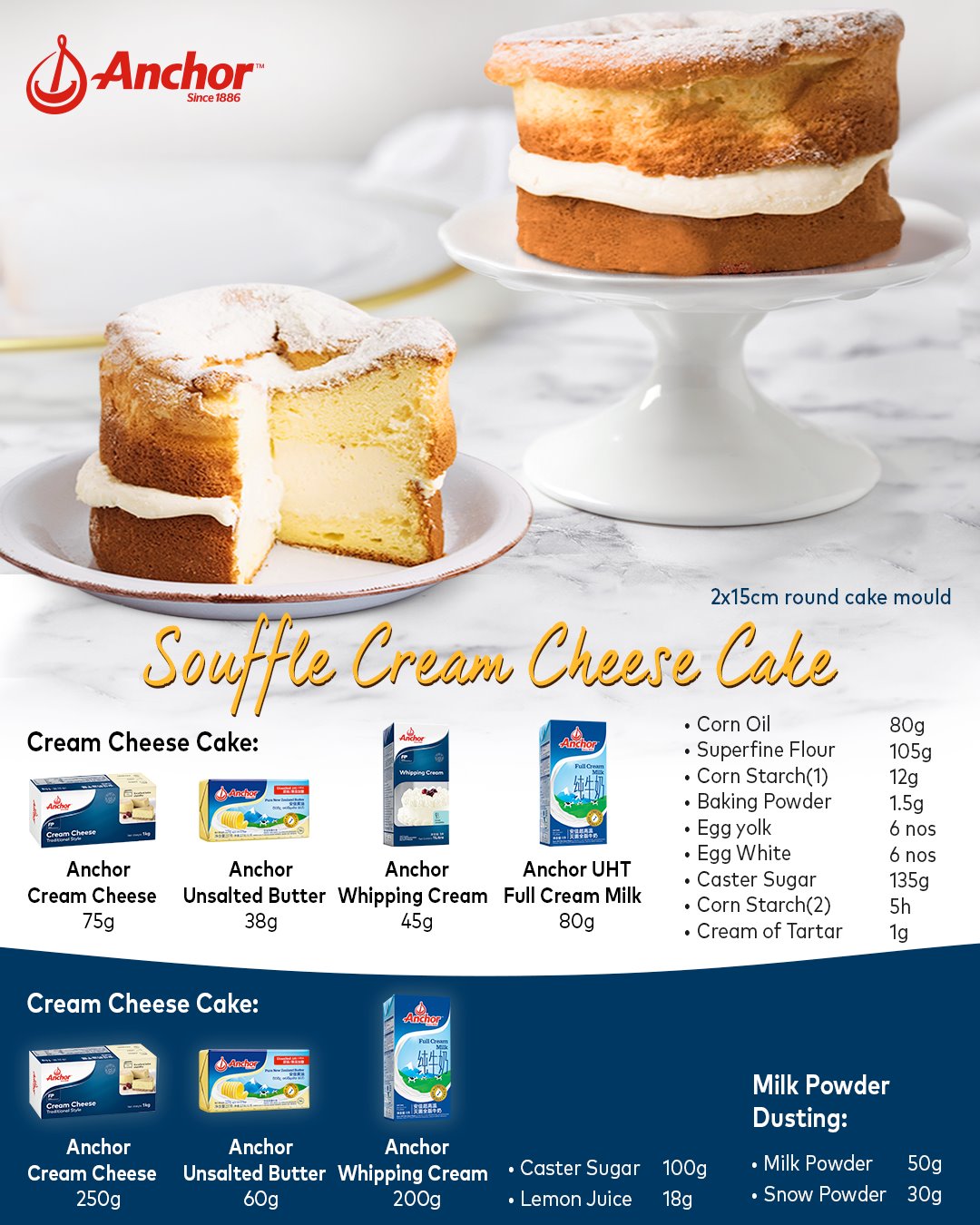 Ingredients :
Anchor Cream Cheese 75g
Anchor Unsalted Butter 38g
Anchor Whipping Cream 45g
Anchor UHT Full Cream Milk 80g
Corn Oil 80g
Superfine Flour 105g
Corn Starch(1) 12g
Baking Powder 1.5g
Egg Yolk 6 nos
Egg White 6 nos
Caster Sugar 135g
Corn Starch(2) 5g
Cream Of Tartar 1g
Anchor Cream Cheese 250g
Anchor Unsalted Butter 60g
Anchor Whipping Cream 200g
Caster Sugar 100g
Lemon Juice 18g
Milk Powder 50g
Snow Powder 30g
---
For Cream Cheese Cake :
1. Preheat oven at 150°c.
2. Soften Anchor Cream Cheese using warm bath. Use hand mixer to beat, until no lump.
3. Gradually add Anchor Whipping Cream, Anchor Butter, Anchor Full Cream Milk and corn oil and mix well.
4. Remove from heat and mix in sifted flour, corn starch and baking powder. Add egg yolks and mix well. Keep aside.
5. In a separate mixing bowl with whisk attachment, whip egg white, sugar and corn starch(2) until soft medium peak. Fold in the cream cheese mixture.
6.Pour cream cheese batter into cake mould and bake for 1 hour and 10 minutes.
---
For Cream Cheese Filling :
1. Thaw Anchor Cream Cheese at room temperature for about 20 minutes to soften.
2. In a mixing bowl with paddle attachment, beat Anchor Cream Cheese, Anchor Butter, sugar and lemon juice until light and smooth.
3. In another mixing bowl with whisk attachment, whip Anchor Whipping Cream until soft peak. Fold into the cream cheese mixture.
---
Final Cake Preparation :
1. Cut the cake in half (You may choose to cut the cake in full or partially).
2. Pipe cream cheese filling.
3. Dust the cake with 50g milk powder and 30g snow powder.
4. Cut the cake into 4 slices, ready to serve